EcoStruxure Data Center Solutions and Networks
Schneider Electric offers solutions and services to build new data centers or upgrade retrofit, and right-size on-premise, hybrid architectures of centralized, regional, and local edge.
Data centers are the heart of the digital transformation

Leverage the power of connected infrastructure to achieve a more sustainable, efficient, adaptive, and resilient data center for succeeding in the market.

Meet the New Galaxy VL 3-Phase UPS

Innovation, first-class power protection, and sustainability in your data center. Discover how the innovative Galaxy VL UPS makes your data center or colocation facility more sustainable.

Data Center white papers

Discover the industry's comprehensive and deeply researched library and most referenced thought leadership papers from our Energy Management Science Center.
Discover our EcoStruxure solutions for Data Centers and Networks
Schneider Electric offers solutions and services to create new data centers or upgrade retrofit, and right-size on-premise, hybrid architectures.
Configure your IT infrastructure Fast
Leading provider of physical infrastructure solutions for all data centers – new, consolidated, hybrid, and modernized.

Integrated IT solutions that reduce time and complexity.

Integrated data center IT room solutions that reduce time and complexity to scale up or down quickly at the rack level.

Secure communication and computing environments that can be stand-alone single rack or located in a small, secure space.
Edge computing puts applications and data closer to devices and users. The introduction of digitization to improve efficiency and business performance fuels demand for applications that need peak performance, particularly IoT applications. IoT applications often require lots of bandwidth, low latency, and reliable performance while meeting regulatory and compliance mandates.
Meet the 6U Wall Mount Micro Data Center
Local edge creates a web of networks of localized sites that process data as close to the person or thing as possible by reducing or eliminating latency, bandwidth, and data handling issues.

Bringing prompt content delivery, cloud services, and applications closer to the users or "things" that need them.

It includes large computers and storage located in central or urban areas.
Discover our software, products and services for Data Centers and Networks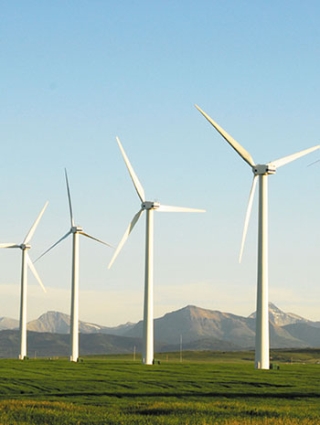 Opportunities in Sustainability
Read an extensive 451 Research report on analysis of sustainability perspectives in the data centers. Learn from the global leaders addressing public concerns, customer expectations, operational resiliency, and regulatory guidelines.
Read the report
A Framework for Achieving Sustainability in Data Centers
Listen to Kevin Brown, SVP for EcoStruxure solutions, Secure Power, and learn how to organize and prioritize data center sustainability and how Schneider Electric addresses this challenge with a five-pronged framework.
Read the blog
Explore our latest insights on Data Centers and Networks
Blogs

Webinars

Podcasts

White papers
Hybrid cloud architecture evolution
Hear from Steve Carlini, VP of Innovation and Data Center at Schneider Electric, as he shares the evolution of the hybrid cloud architecture and discusses how IT and data center professionals can leverage this change.
Powering and digitizing data centers
Pankaj Sharma, EVP of Secure Power Division at Schneider Electric, discusses how the digitization of data centers plays a pivotal role for businesses to adapt and be resilient to uncertainties.
Building the resilient and sustainable Edge
The industry faces an emerging challenge within smaller, edge environments. Kevin Brown, SVP and CMO of Secure Power Division at Schneider Electric, explains how we power the digital transformation for our customers in a highly reliable and resilient way.
Integrated Industry Solutions
Operation managers and innovative companies are considering ways to cultivate their enterprises' data inputs into an integrated solution. Todd Gurela, CTO Industry Group Solutions at Cisco shares the company's focus on IT and OT convergence and how his team effectively streamlines customer networks and applications to reach outcomes.
Scale and Efficiency
The acceleration of cloud-based applications and remote workforce created connectivity and bandwidth complexities for both Microsoft employees and customers. Hear Julia White, CVP Azure, explain what actions her company took to ensure last-mile dependency was resilient.
Adoption of Edge Computing
The acceleration of digitized applications like IIoT and AI requires agility and scalability like edge computing. Sébastien Verger, CTO France at Dell Technologies discusses the barriers to customer adoption of edge computing architecture.