Your single source for energy and sustainability data
EcoStruxure™ Resource Advisor is a solution to manage your energy and sustainability footprint. This platform enables companies to collect, analyze and automate information that matters for your sustainability goals. Resource Advisor centralizes those data in one place so that AI and human expertise can take advantage of those numbers. Leverage digital innovation for energy and resource management to inform business decisions and accelerate results.
Centralized, global data
Discover a single enterprise-level platform to manage your energy and sustainability landscape.
Access brochure
The best in its class
Award-winning and industry-leading sustainability software moves data to action.
Discover more
Integrate AI-generated data into your sustainable strategy
AI allows companies to get more value out of the data they produce and provide more accurate analysis for their energy and sustainability strategy. Optimize the use of your corporate resources and accelerate your company's participation in the global energy transition. This energy management software implements, collects, and aggregates your data to ensure its accuracy so you can trust your data and make decisions with confidence.
Ron Voglewede,
Global Sustainability Director, Whirlpool Corporation
"The ability to boil everything down to numbers enables us to communicate back to executive staff on how we are making progress — what gets measured, gets done."
Don Anderson,
Chief Sustainability Officer, Blackstone
"The marketplace is crowded with data collection and tracking solutions focused on carbon, energy, costs, etc. Schneider Electric's data collection services and Resource Advisor tie predictive energy cost modules to project prioritization, portfolio-wide diagnostics, and reporting. As a result, Blackstone has chosen Schneider Electric to serve as our sustainability data collection and reporting partner."
Achieve centralized visibility and reporting to maximize efforts
Sustainability and energy management software in the cloud puts more than 400 data streams at your fingertips. All data will have a clear context within your role and responsibilities so you can discover hidden opportunities and act faster.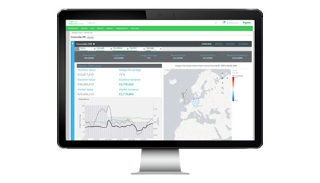 Optimize energy procurement to identify errors and manage risk
> Validate and analyze bills to identify errors and energy savings opportunities
> Track performance against budget and changes from prior years at a corporate or down to a site level
> Monitor energy procurement RFP activities and contract outcomes
> Support the design and execution of commodity risk management strategies
Identify and track energy efficiency projects
> Manage interval data for your entire consumption profile
> Compare and benchmark facilities with raw or normalized data using energy monitoring
> Set alarms for issues or performance drift
> Centrally plan and manage the progress of energy efficiency projects across your portfolio
Streamline sustainability reporting with one source of truth
> Capture, track and report enterprise sustainability data for any stream from energy, water and waste to HR and EH&S metrics and more
> Utilize a best-in-class carbon management reporting platform and fully-maintained global emissions library
> Increase internal awareness about your sustainability strategy and program performance through engagement dashboards
Achieve more energy and sustainability success