Asset management is at the heart of your business
Our catalog of Asset Performance Management (APM) services enables you to easily monitor and visualize your critical assets using digital technologies, remote expertise, and on-site maintenance. Our unique blend of services brings increased reliability, cost efficiency, and enhanced asset lifecycle management. Start today with a thorough assessment and recommendation plan.
Asset Performance Management use cases
Access
"I don't have access to my electrical and energy asset information."
Prevent
"I want to prevent failures on my critical assets."
Get expertise
"I require specialized expertise to detect and fix issues with my electrical assets."
Optimize
"I need to optimize my system availability and operational efficiency."
Discover our unique blend of asset management services
Monitor

Visualize

Manage

Consulting

Asset Classes
Digital Asset Monitoring Services
Let Schneider Electric help you monitor your assets to support your decision making.
Basic monitoring services
Get access to your electrical and energy asset information. Visualize and manage your asset fleet with our monitoring services.
Condition-based monitoring services
Optimize your system availability and efficiency with condition-based alarms and energy dashboards. Do it yourself, or let us do it for you, leveraging 24/7 remote expertise, a chat function and customized reports.
Asset Information Visualization
Product registration on mySchneider app
Keep track of all your electrical assets and gain actionable insights on installed equipment health.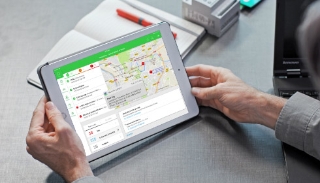 Real-time visual dashboards
Monitor your installation 24/7 with cutting-edge PC Web Dashboards and mobile phone applications.
Automated reports
Generate reports of your installed base and receive recommendations to minimize risks.
Digital Asset Performance Management Services
Let Schneider Electric help you mitigate power and process failure risk and reduce downtime by proactively identifying issues inside your equipment.
Predictive asset performance management services
Get a clear view of your critical asset health. Optimize system availability and detect asset failures before they occur. Get always-on monitoring and an asset health dashboard with advanced APM reports, dynamic maintenance, and mitigation plans.
Prescriptive management services
Benefit from predictive services and get actionable recommendations from our experts. Anticipate your asset risks and receive professional application support from our Connected Services Hub.
Consulting and Training
Consulting and Training
Our experts come on site, perform an APM assessment and provide you with relevant recommendations and implementation plans.
Modernization performance and safety audit
Get the right level of asset life analysis. Identify weaknesses for your site and your critical assets. Receive recommended preventative actions, upgrade and modernization solutions.
Our digital services are vendor agnostic
Our suite of Asset Performance Management services enhances any type of electrical and industrial asset, regardless of brand.
Power and distribution transformers
Low-voltage air circuit breakers
EcoStruxure Service Plans

Increase business resiliency, anticipate risk of failure on electrical assets, reduce downtime by proactively identifying issues and perform maintenance only when needed based on data and predictive analytics.
All these benefits packaged in our new EcoStruxure service plan combining power of data and analytics, 24/7 remote monitoring of your assets and power system expertise: remote and on site.
Ready to order?
Start your sales inquiry online and an expert in your location will connect with you.
Success Story

BASF achieves operational continuity with EcoStruxure

EcoStruxure Asset Advisor helps BASF gain a clear view of its operations through remote monitoring, ensuring uninterrupted operations.
Explore all the Digital Services: